Equipment
General
A trip like the Trans Americas Expedition requires a lot of preparation and planning, even if a significant proportion of the hard work and research is done by Kevin and Julia and the team at Globebusters. It's still an expedition, though, and despite their organisational prowess, I'm still responsible for my own equipment and preparation. This page explains a little more about the equipment I'll be taking on the trip, from the modifications made to the bike through to my personal items.
I'll only know whether I've got this right once the trip is underway... so keep your fingers crossed!
The Bike
The most important piece of equipment for a motorcycle adventure is obviously the motorcycle. Mine is a 2005 BMW R1150 GS Adventure, the same model that took Ewan and Charley round the world in The Long Way Round (the first and best of their motorcycle adventures). This bike is designed for the purpose of big adventures, and is a joy to ride, even if it can be a little intimidating due to its size. As standard it comes with a number of extras designed to cope with long adventures, including ABS, heated grips, engine crash-bars, low first gear and tall suspension...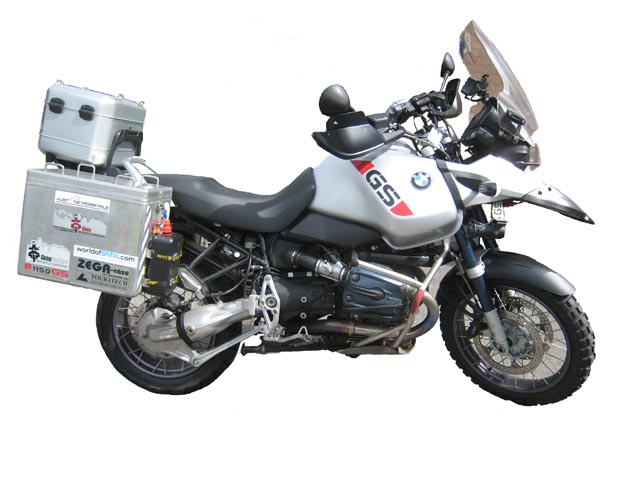 Even so, I've modified the basic bike with a number of things to make it more robust, or to improve comfort, or simply to enable me to cope with riding it for 19 weeks and over 21,000 miles... The list is long and includes:
Seat - BMW optional low seat, so I can reach the floor more easily
Airhawk comfort seating system - an inflated cushion to avoid numb bum syndrome
Wunderlich handlebar risers - to lift the bars up and back, reducing strain on my back/shoulders, especially when riding stood up
Fastway footpegs - wider, more sturdy footpegs, necessary when riding stood up for hours on end
Tobinators - raise the screen and make it more adjustable, helping cut wind blast and buffeting
HID headlight - converted dip and main beam to Xenon High Intensity Discharge bulbs which turn night into day
Pair Micro DE foglights on special GS mount - additional lighting, to make me more visible...
Exhaust Y-piece - removes the catalytic converter to allow poor quality fuel to be used and to improve responsiveness of the engine
Touratech handguard extensions - help keep my hands out of the windblast and the rain
Touratech sumpguard extension - protects the underside of the exhaust from rough terrain
Touratech headlight protector - to protect the headlight from flying stones
Touratech "Hard Part" - a special piece of protection that fits the front suspension wishbone and prevents damage to the steering headstock in the event of a tumble
Touratech oil cooler guard - to protect the oil cooler below the headlight
Touratech crud-catcher plate - allows removal of the standard crud-catcher mudguard which clogs up when riding off-road
New BMW shock absorbers - replaced front and rear shocks as their service life is approx 30,000 miles and the bike has already done 24,000 before the trip starts...
Stebel Replacement Horn - with 136Db it's loud, very loud, but necessary given some of the traffic conditions we'll experience...
BMW Navigator III Sat Nav - loaded with Garmin's North America and World Maps, to help with my navigation and allow me to keep a record of where I've been (whether intentional or not!)...
Touratech Zega Special Pannier Kit - side panniers that fit close to the bike and provide lots of carrying capacity
BMW Adventure Top Box - the original BMW top box, which I'll only be using for my waterproofs, documentation and first aid kit
Tyres - front is a Michelin TKC80 off-road adventure tyre, rear is a Metzeler Tourance adventure tyre - a mis-matched combination but recommended for the trip by the experts, the off-road front necessary for the gravel roads in Alaska and the rough terrain in Central and South America
Autocom intercom - wired up to the Sat Nav and my MP3 player, which sits in a waterproof case on the handlebars
DogCam DV500 video recorder and bullet camera - for that all-important on-bike footage...
Touratech 2 litre petrol can - mounted to the front of the offside pannier
Touratech bottle carrier - mounted to the front of the nearside pannier
Touratech number plate mud deflector - to try and keep the crap off the rear of the bike
Tools and Other Bike Essentials
In order to keep the bike going on the trip, and in anticipation of the inevitable need to tweak things by the roadside, I've collected together a simple set of tools that I will keep on the bike at all times. They are:
Standard BMW tool kit - comprising various Allen Keys, Torx sockets, spanners and a screwdriver with various bits
Stop'N'Go Tire Plugger - puncture repair kit (it's America, hence "tire"...)
Miniature Compressor - to re-inflate the tyres following a repair, or when they've been let down by vandals...
Additional tools - to supplement the basic kit, including pliers, stanley knife, socket wrench, tyre pressure gauge, oil filter removal tool
Plastic Metal, Cable Ties, Insulation Tape and Duct Tape - emergency repair equipment
Bike Service Kit - including air and oil filters, spark plugs and rear brake pads
Spare fuses and bulbs - including standard halogen bulbs in case of HID problems
Padlock and cable - more of a deterrent than real security...
Spare bike keys
Map case - sits on the tank held in place by magnets
Cargo nets and straps - so I can carry yet more junk on the bike...
Leatherman Wave and Swiss Army Knife - man gadgets...
Head torch
Clothing
Naturally my most important items of clothing are my bike suit, boots and helmet, but I also need to pack clothes for when I'm not actually riding the bike. But with limited space in the panniers, I need to pack light. And I need to pack clever clothing as well, as it's got to last over 19 weeks in all weather conditions
Riding Clothes
Schuberth C3 flip-front helmet - bought specifically for the trip, so I can lift the front and grimace at border guards...
Custom Ear Protection earplugs - moulded to fit my incredibly small ear canal and very comfortable. Fitted with filters so I can still hear my music whilst reducing wind roar
BMW Rallye Pro 2 Jacket and Trousers - the definitive adventure motorcycle gear... so much so, that almost everyone else on the trip will be wearing them... so much for "rugged individuality"...
Alpinestars Tech 6 Motorcross boots - extremely protective and also very smelly. And that's before we set off...
Berghaus Gore-Tex outer jacket - bought in XXL so it fits over my riding jacket, keeping it and me nice and dry...
Berghaus Gore-Tex over trousers - as with the jacket, but fits over my riding trousers...
BMW GS riding gloves - very comfortable and nice and light - with heated grips also suitable for relatively cold conditions
Leather gloves and thermal inner gloves - a combination that's suitable for even colder conditions, as I don't really get on with bulky winter gloves
Camelback "hydration system" - a 1.5 litre bladder in a small rucksack so I can drink and ride...
Klan electric heated jacket - only for use in very cold weather, as it's like wearing a 3-bar electric fire...
Rab "Generator Smock" - a thin synthetic filled inner jacket that's also very, very warm
Lowe Alpine Thermal leggings - for when it is so cold I'm not too embarrassed about wearing "tights"...
Fox Knee Protectors - not sure if I'll wear these or not, as they're not very comfortable, but they offer increased protection over the ones fitted into the trousers, and Kevin recommends them...
Buff - to keep my neck warm, and so I can see if I can make it do any of the other things its supposed to...
Pair of Gore-Tex Boot liners - bought cheap from the Army Surplus shop, not sure if they're any use...
Off-Bike Clothing
The list of off-bike clothing is somewhat smaller, reflecting the balance of time spent on the bike vs off it...
3 short-sleeve tee-shirts
2 long-sleeve tee-shirts
1 trekking shirt
2 pairs trekking trousers - convert into shorts
1 pair Converse All Star lows - trainers for everyday
1 pair Crocs - I was going to get some more Teva sandals, but thought I'd give these a go... and they're very comfy!
1 mid-layer fleece jacket
1 belt
6 pairs of underwear - will need washing regularly!
5 pairs of socks - also will need washing regularly...
2 pairs long socks - for when it's cold...
1 baseball cap
1 pair swimming shorts
1 vest top
1 pair running shorts - just in case...
Other Stuff
In addition to all the above, I also have to find room on the bike for:
First-Aid Kit - containing all the usual things plus: Imodium and Dioralyte (for the inevitable dicky tummy), Malaria Tablets (9 weeks supply), general purpose anti-biotic (for those nasty tropical diseases not covered by the endless vaccinations), Lamisil (foot cream as my feet will be in motocross boots for most of the time), Paracetamol, Co-codamol and Alka-Seltzer (hangover medication) and 22 weeks of my blood-pressure medication (although as I won't be at work...)
Sterile Emergency Kit - Tracy's idea this one, consisting of sterile syringes, gloves, and scissors... to be given to a qualified medic to avoid complications...
Toiletries - no hair dryer, but I do need: Beard trimmer and razors, shaving foam, shampoo, toothbrush and toothpaste, soap, nail clippers, tweezers, deodorant, lip balm, bath plug, suncream, after sun, wet ones, travel wash (doubles up as clothes wash), and alcohol hand cleaner
Mosquito prevention - deet and mosquito net
Sleeping bag and silk liner - for when I get chance to camp
Documents - various sets of original and photocopies of passport, bike documents, insurance documents, driving licence, International Driving Permit, vaccination certificates, etc
Camera, spare batteries, charger and spare SD cards - must not forget this!
Dell Mini 9 netbook, with external hard drive - so I can update the blog as I go...
Cowan iAudio MP3 player with extra SD cards - lots of music, and the rest is on the hard drive so if I can vary it if required...
Maps - one for each country...
Spanish Phrasebook - "I from Barthelona, I shpeak Eeenglish very well"
Small pocket calculator - so I can tell how much I'm being ripped off when buying stuff or converting money
Credit cards - and a dummy wallet with expired cards in case of mugging...
Sun glasses
Pass the Pigs - the essential travel game
Small notebook - in case I can think of something to write when I don't have the netbook with me
Travel adaptor for US mains
and finally... some photos of Tracy, the kids and grandkids...
And this is what it looks like, spread out on the bed ready to be packed...