The Great Easter Escape - April 2009
Using the believable excuse that I really do need to put some biking miles under my belt, I convinced Tracy that it would be a good idea if I excused myself from husbandly duties over the Easter Weekend and headed off somewhere… but where? My first thought was to head South, in search of reasonable weather, and perhaps even head onto the continent for some serious mile-busting. So I turned my attention to our old maps of Europe and started plotting. With an early afternoon skive off work, I could catch an early evening ferry and then stop in a Formule-1 somewhere just outside Calais, in order to get a full day's riding on Good Friday, then a bit further south on Saturday before starting the run back home on Sunday and Monday. Sounded like a plan, but it needed a theme, a destination to keep me going when I was starting to think about stopping and camping early in order to seek out some beer…
And that's when an idea struck. I'd go and see my mum's castle. Actually, it's not hers really, it was built by mad king Ludwig II of Bavaria (who was certified insane and kicked off the throne) between 1869 and 1886. Called Neuschwanstein, it's the inspiration for the famous Disney castle, and features in a fantastic photo taken by my late Dad that has pride of place on my mum's stairwell wall. And I've never seen it. So that was it settled, my destination for my little journey. A round-trip of roughly 2,000 miles…
Before then, though, I'd had to address a few problems with the bike, as mentioned in my last post. I booked the bike into my local BMW dealer, Allan Jeffries in Shipley, fearing the worst. The mechanic at Globebusters had previously had a brief look and diagnosed a loss of compression on one cylinder, which sounded expensive. As it turned out, the problem was much less serious. A spark plug had collapsed and one of the coils was faulty. But with a leaky gearbox driveshaft seal and a need for new rear brake pads and some remedial work on the brake calliper, and an MOT, it was expensive enough. Then it also needed 2 new tyres before I could consider any distance rides, as the current ones were very squared off and getting decidedly past their best. More expense. I also had to fit a new bullet camera I'd bought to record some on-bike footage to the bike, as I wanted to evaluate its suitability for using on the Trans Am. With the solid-state video recorder mounted in a plastic Tupperware box on my dash (a temporary measure, as it looks crap) and the wiring sorted so I could use the remote on the handlebars, and the bike running smoothly again, I was all ready to depart. I took the opportunity to work from home on Thursday so I could start early and justify finishing early, despite an ever-growing workload, and so I loaded up immediately after lunch, said goodbye to Tracy, Carlie and the boys, and set off on the long ride to Dover.
This part of any journey is a drag, as the desire to get there quickly takes over from the enjoyment of the ride somewhat, and as my MP3 player's battery was flat again (thought I'd charged it only a couple of days before) I had to endure the journey without music to keep me company. The motorways were fairly traffic-free, and using the M6 toll to bypass Birmingham certainly helped, although the weather on this section was bad with heavy rain and poor visibility. The only time there was any problem with traffic was when there were big queues of rubber-neckers eyeballing accidents on the opposite carriageway. One was quite bad, and I caught a climpse of a woman on a back-board being carried to a waiting ambulance. Not a sight I wanted to see again…
A short stop at South Mimms services on the M25 to escape another queue was then followed by a 10-mile stretch of filtering practice with a huge queue leading to the Dartford Crossing toll booths. Fortunately most of the drivers sitting (im)patiently in the queue saw my headlights and moved apart allowing me to make reasonable progress, and with the crossing now free for bikes (following a trial at a World Superbike round at Brands Hatch in the Foggy era when thousands of bikes caused chaos as riders fumbled for change), I was soon on a clear motorway on the last stretch to Dover. I arrived at 7.05pm, and once checked in was waved almost immediately onto the ferry – the joy of travelling by bike is that if you arrive just as the ferry is about to start boarding, you get on first. There was only one other bike on the ferry, and that was being pushed aboard by its rider as its battery was flat. Unfortunately I couldn't offer any assistance as I don't carry jump-leads or a battery charger, even with such large panniers… Once boarded, I headed straight to the food court and settled down for a Chicken Tikka Masala curry, which was actually quite palatable…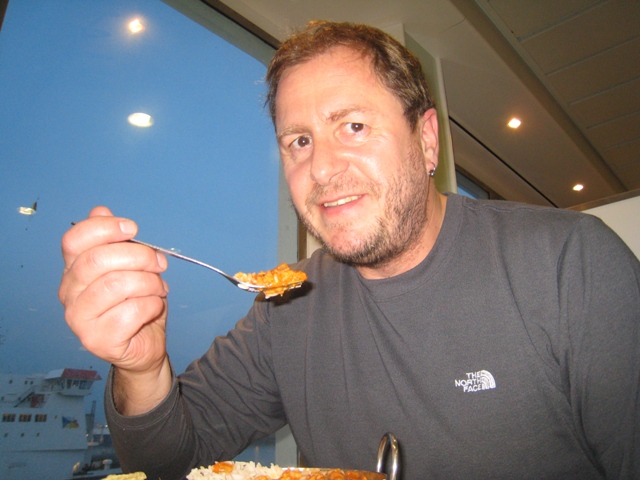 When the ferry arrived at Calais I was quickly off the mark and first into France, as my fellow biker forlornly pushed his dead bike down the ramp. A relatively short ride some 55miles south to Lievin and the Formule 1, and before long I was settled down with a couple of cold beers (bought on the ferry in the traditional way) and then hit the sack…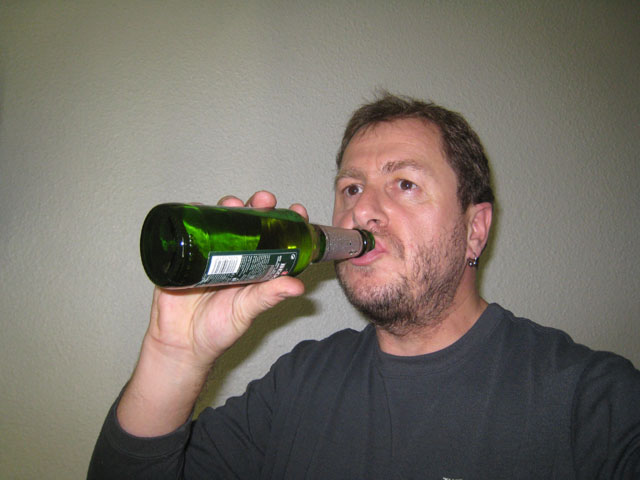 The following morning dawned bright and very sunny, and I enjoyed a breakfast of delicious fresh French bread with butter and jam and fresh coffee, before loading the bike again and hitting the road just before 9am. With no real route planned, I simply set the sat nav to avoid toll roads and tell me distances/speeds in kilometres not miles, and programmed in the castle as my destination. With no route-finding to distract me, I could concentrate fully on my riding, on the wrong side of the road for the first time since the accident. Overtaking my first truck on the left was a little disconcerting, but it only took a few miles before I was back in my stride and everything was feeling very natural. Unlike driving a car, which has the steering wheel and therefore your position in the road fixed, riding a bike on the opposite side of the road is really easy, as long as you remember to go round roundabouts anti-clockwise… and turn onto the right side of the road when exiting junctions…
The sat nav took me on a tour of 4 countries – France, then through Belgium and across Luxembourg before entering Germany and heading all the way South to close to the Austrian border. The autobahns were no problem, but I had to keep my wits about me as the autobahn-stormers in their big BMWs and Mercedes came flying past, despite my speedo showing a fairly steady 140kph (87mph). Their closing speed was quite something, so overtaking required a double-double-check prior to changing lanes, but at least they drive with their headlights on to make them easier to spot. It's still a shock, though, when they come past travelling a good 50mph faster than I was going… With frequent stops for water to avoid dehydration, and to have a stretch, and with my MP3 player fully charged and playing on shuffle, juxtaposing Black Sabbath with Aimee Mann, I was in my element. The sun shining certainly helped.
The only problem I had was a diminishing fuel supply. The stretch of autobahn I was on suddenly became devoid of services, just as the warning light came on. Now, Kevin (of Globebusters fame) had told me that the reserve range on an 1150GSA was about 40 miles, and with 2 litres of petrol in a bottle attached to my pannier, I wasn't overly concerned, until I got to 30 miles into the reserve with still no sign of a petrol station. So I took the next junction off the autobahn and programmed the sat nav to take me to the nearest fuel. Which turned out to be some distance away. With the mileometer creeping past the 40 mile mark and still no sign of the elusive petrol station, I was starting to prepare for the inevitable when I spotted the petrol station at the end of the road. However, just as I was crossing the roundabout that led to it, the bike coughed and died. Literally across the road. Kevin was right, I'd managed 43 miles on reserve. At least I know how far it can go now. And it wasn't too far to push it onto the forecourt and fill the tank again… Then it was back onto the motorway once again, and doing battle with the autobahn-stormers…
At around 6pm the motorway suddenly came to an end and I was disgorged onto a winding road with the snow-covered Alps as a backdrop. I passed through quaint little Alpine villages, with the smell of pine in the air (and I don't think it was the canned variety). And then I caught my first glimpse of the castle, nestled in amongst the mountains on its ridge-top, smaller than I expected, but nevertheless quite impressive…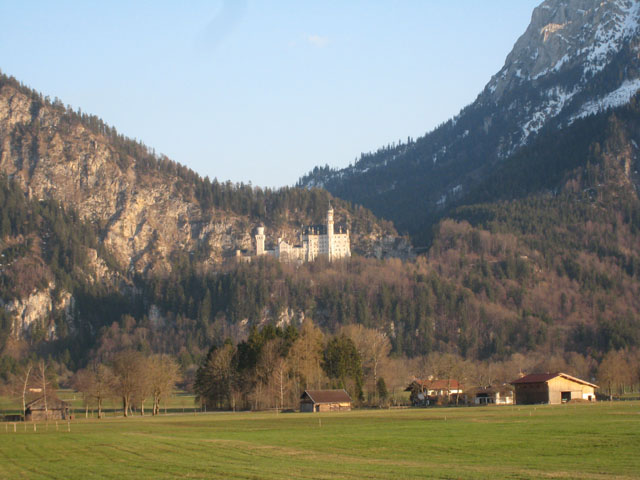 As it was now getting late, I reset the sat nav to the campsite I'd found on t'Internet when researching where to go, and followed the instructions diligently. Fortunately the receptionist spoke excellent English, as my fried brain couldn't remember any German (except "sprekken sie English?"), and I was directed to the tent area, and warned the restaurant closed for hot food at 8.30pm – and it was now 7.15pm… With the tent pitched quickly and changed into my civies, I headed straight for the restaurant and an appointment with a couple of cold German beers and a pizza… Sadly the beer wasn't very photogenic, but it was delicious. As was the pizza. And just after 9 I left the restaurant, phoned Tracy and called it a night, having ridden just over 620 miles – my longest day's riding by some margin to date…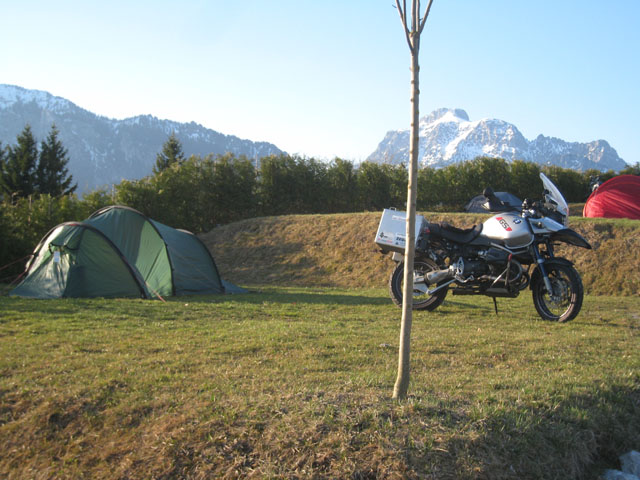 Day 3 of my escape dawned a little cooler, but with clear blue skies and the early morning sun starting to burn away the mist, it was looking good. It didn't take long to pack away the tent and load up the bike before handing in the pitch badge at reception and riding off in the direction of the castle. It was my intention to try and ride up as close as possible, but the road leading to the castle is closed to traffic and with a long hike required to get close, and me wearing motocross boots, I had to settle for parking in the valley and taking photos from the roadside. Still looked impressive, though…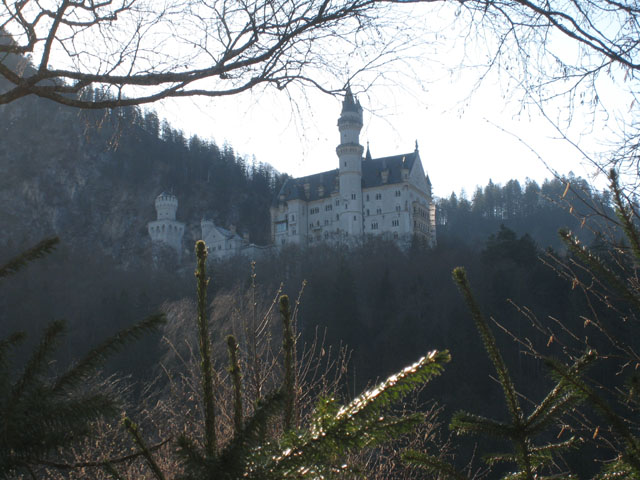 With my sightseeing of the castle done (at some point I'll come back to this beautiful place and do the job properly), I headed off in a random direction, aimlessly riding through small villages and generally trying to get lost. It's only when lost that one really finds your way. Or something like that. I spotted a small shop open and went inside in search of some more water and something for breakfast. I grabbed 2 bottles of water and a small bunch of bananas and a box of biscuits. It turned out not to be my best decision, as the water was slightly carbonated (yuk!) and the bananas a little greener than they looked. But with something in my stomach I was ready to start riding again, but not quite as aimlessly as previously. Looking at the map I'd brought, which shows the whole of Europe and therefore not exactly a lot of detail, I picked out the town of Friedrichshafen on the banks of the Bodensee. Little did I know at the time, but the town is the birthplace of the Zeppelin, and was home to the company. Next time I'll do some proper research and route planning. Or find an Internet café en-route and check it out before turning up. This time I set the sat nav to most direct route, as opposed to fastest, as on this setting it takes me through the towns and villages en-route, which not only breaks the journey up, but gives me the chance to actually see something of the country I'm travelling through. Still lazy when compared to navigating by map, but hey, I only have a few days…
The first thing that struck me about the countryside I was passing through, was how much like the scenery in the last scenes of the Great Escape it looked like. Rolling green fields dotted with little wooden shacks. I contemplated a little bit of off-road riding, Steve McQueen style, then remembered that I've a big trip planned that might be more difficult with a barbed-wire entangled body and a mangled bike, so I stuck to the tarmac. I did consider one detour though, as I've often wondered what it's like…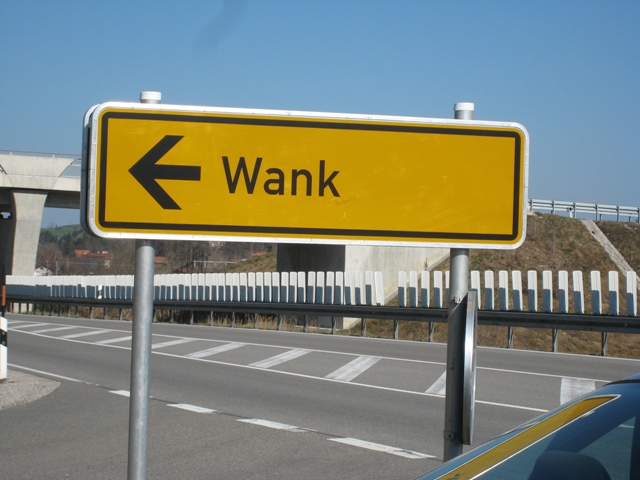 But I settled for a photo, giggling like a schoolgirl and wondering what the drivers of the cars waiting at the junction made of the mad Englishman on the bike taking photos of the roadsign…
Friedrichshafen proved an interesting place to stop for lunch, as I found a free table outside a restaurant and ordered a Spaghetti Carbonara and a large glass of Sprite. Before it could arrive I was joined at the table by an elderly German woman, who seemed relieved that I couldn't speak German as it allowed her to people-watch instead of engaging with a complete stranger. I was relieved too, as I wanted to do the same. After all, the sun was shining, and there were lots of people wandering around, and all that was missing was Tracy (and a beer instead of the Sprite) and it would have been perfect. Whilst sat watching the world go by, I noticed a sign on a large building bordering the square – the "Zeppelin Museum". After lunch I wandered over to check it out, but with an entrance fee of 7.50euros and me in my motocross boots (hardly ideal for spending hours wandering round a museum), I decided against a full visit. Besides, I'd come here to ride, not spend a sunny day inside a museum, no matter how interesting it looked. Back at the bike, I set the sat nav for Colmar, a town south of Strasbourg in France, which seemed like a good place to spend a night. And so I mounted up and set off once more, again following the direct route. More beautiful countryside, Alpine villages, this time accompanied by the smell of freshly spread fields (lovely…).
En-route I passed another interesting place-name, this time one Tracy and I had passed (and giggled like schoolgirls at) back in 2005. Titisee. This I had to see. (actually, "see" is German for "lake", but you can't blame me for the pun). Riding into town I spotted a large number of motorbikes parked on the pedestrian area, so I followed suit and rode over the pavement and parked up, then went in search of an ice-cream. A walk down to see the lake revealed it to be still partially frozen, despite the very warm sunshine I was enjoying.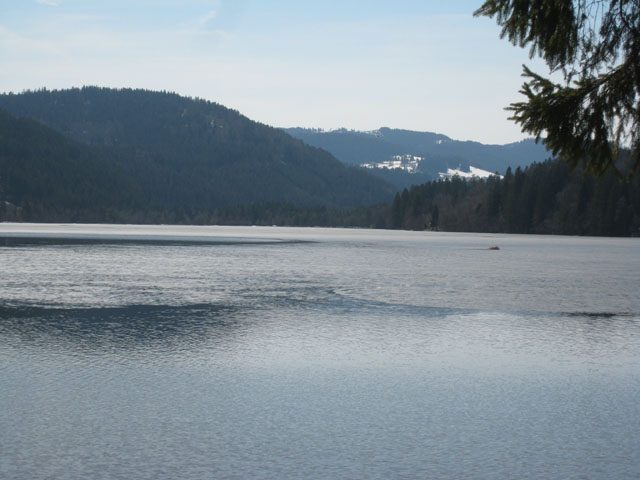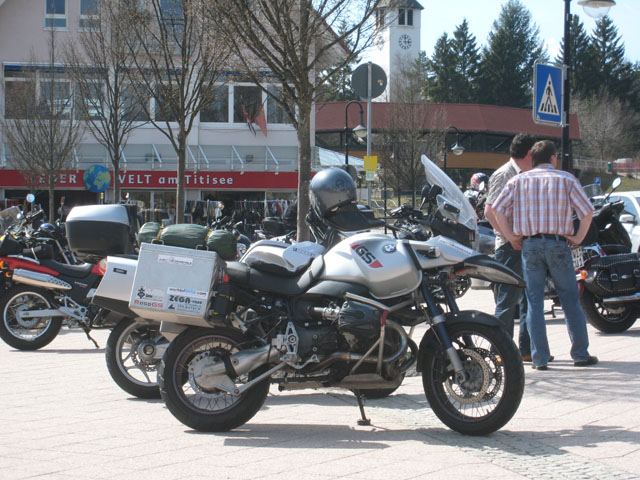 The temptation to just sit and enjoy the sun was great, but I dragged myself back onto the bike and continued on my way. Arriving at Colmar I then set off in search of a campsite and discovered I'd forgotten to load the database of French campsites in my sat nav, making this a bit of a search mission, involving heading into likely-looking towns and searching for camping signs. Fortunately the French have a love of camping to rival my own, and most towns have a campsite. First up was Colmar, which had a sign on the outskirts of town. That disappeared on entering the town. I tried leaving and re-entering the town twice, and both times lost the signs and couldn't find the site. Next up was a small town somewhere on the hillside west of Colmar, where I found another sign. This time I found the site, but it was in someone's back garden. Seriously. So I rode on and on until I found another sign, and this time found a site that looked a little better, and with the time getting on, I checked in and pitched up, then checked out the facilities. Which consisted of one shower and no toilet roll. Still, enough for a shower before heading off in search of food… and once again I turned to my sat nav for help – it has a rather impressive database of restaurants, selectable by the type of food, and so I discovered a Chinese restaurant less than 10km away. Which turned out to be very good, and I enjoyed a spicy prawn soup followed by a red-chicken curry and rice, before heading back to camp and an early-ish night.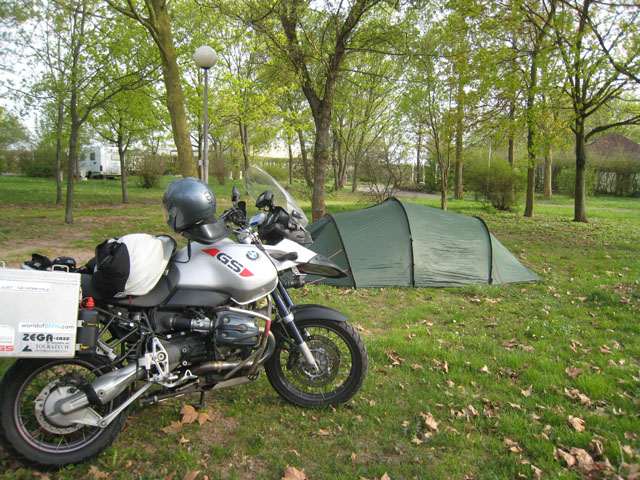 The following morning dawned misty but not cold, and I looked at the map and made a decision. I would ride gently to Reims, then, based on the time, make a decision as to how far towards Calais I'd get to today. The ride through the familiar French countryside was as enjoyable as ever, following the wine-route through Alsace and into Champagne country, following the winding road that twists and turns through the forest. I only stopped to pick up some water and snack on the biscuits I'd bought the previous day, and then fill up early to prevent a recurrence of the running-out-of-petrol fun, especially as Sunday in France is notoriously hard to find an open petrol station. After a good few hours ride I was near Reims and out of curiosity entered Calais as my destination I the sat nav and selected "fastest route but still avoiding toll roads". When it came back suggesting an arrival time of 5pm, I made a snap decision. If I could get a ferry close to that time, I'd be able to get home in the wee hours of the morning, and spend all day Monday with Tracy. And it would be a long day's ride which was the whole point of the trip, as opposed to 2 relatively short days. Decision made, I set off once more, pounding across the French countryside. Not that the sat-nav always gets everything right, though, as on this setting it has to avoid the peage, and that can sometimes result in some odd road decisions.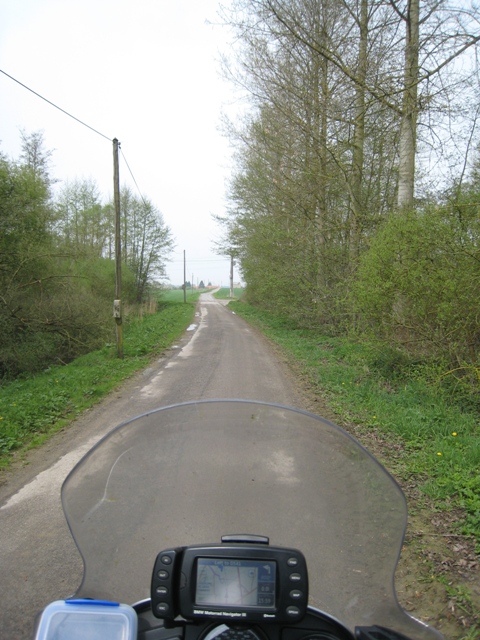 All this riding was taking its toll on my petrol, though, and once again the low fuel warning light started shining. Sunday in France, and running out of petrol. Great. Last time this happened, I could only find automated 24hr petrol stations, and they didn't take any of my credit or debit cards. I had to ask a passing Frenchman to pay on his card in exchange for cash. And here I was, about to end up in the same situation, except I was in the middle of nowhere on a straight road through the French countryside. So I once again turned to the sat nav and selected "nearest fuel station". Which took me to one that had obviously closed years ago. Then another that was closed. And a third that was fully automated and deserted. Finally, and getting more worried despite having 2 ltrs of fuel attached to my pannier, I found one that was automated, but was being used. Preparing for another "excusez, mois, monsieur…" conversation, I pulled up and went through the motions of using my card, fully expecting it to be rejected. But it wasn't! Once again my luck was in, and I was able to fill the tank once more.
Relieved, I was back on the route to Calais and heading for the ferry. I arrived at the port at 5.15pm, and having paid an extra £24 (less than the cost of a room for the night), I was shown to the boarding area. Unlike my outward trip, I'd arrived towards the end of boarding for the 5.45 ferry, and so was last onboard. But it mattered not, I was about to go home, and looking forward to riding in the dark on roads that would hopefully be clearer than they would have been had I stuck to my original schedule and travelled home on Easter Monday. Again I had my evening meal on the ferry (pie and chips, sod the diet!), and when we landed in port I managed to get off with the first group of cars and ahead of the trucks and was once again riding on the left. Taking the M11/A14/A1 route north instead of the usual M1/M6 proved to be a good decision as the road was largely empty, and I only had to stop once for fuel and once for a leak/drink, making excellent progress and arriving home much earlier than expected at 11pm, making the trip back from Dover in under 4.5hours (which must be something of a record!).
So that was just under 2,000 miles in just 4 days, with a longest day of 742miles. I'd been through 5 countries (France, Belgium, Luxembourg, Germany and Austria), seen some beautiful castles, stunning scenery, funny placenames, enjoyed good food and bad food, run out of petrol, and generally had a great time. And I got some video footage on my new camera that's convinced me to persevere with it on the TransAm, if only because it gives a much clearer impression of what it's like to ride through these places than a still photo ever can… and whilst it's not the greatest on-bike footage you'll ever see, you can at least join me on a ride through a couple of Alpine villages - though you might want to turn the sound down, I've yet to get the audio recording level right!